Are there Elk in Kentucky?
Many people are shocked when they hear it, but Kentucky has the highest elk population of any state east of the Mississippi River. The current population of elk in Kentucky stands at 11,000 animals. Beginning in 1997, Kentucky started reintroducing elk into Eastern Kentucky Bluegrass state. The elk were pulled from six Western states -- Arizona, Kansas, North Dakota, New Mexico, Oregon and Utah -- then released into the Bluegrass.
By 2002, 1,541 elk were released into the Kentucky elk restoration zone. Now the population is estimated at 13,106, according to a 2019 report.
Elk are native animals to Kentucky and were present in the state until the mid-1880's. During the last few years preceding the Civil War, the Kentucky elk population was eliminated due to overhunting and the increase in human habitation. Daniel Boone encountered the remarkable beasts when he first crossed the Cumberland Gap and remarked that "those fertile plains which are unequalled on our earth, laid the fairest claim to the description of the garden of God. [1]"
The buffalo, elk, bear, deer and other wild game everywhere roamed in fearless security. — The Life of Daniel Boone


As Kentucky's elk population rises in numbers, it's believed that the next prized elk will come from our mountains in Eastern Kentucky.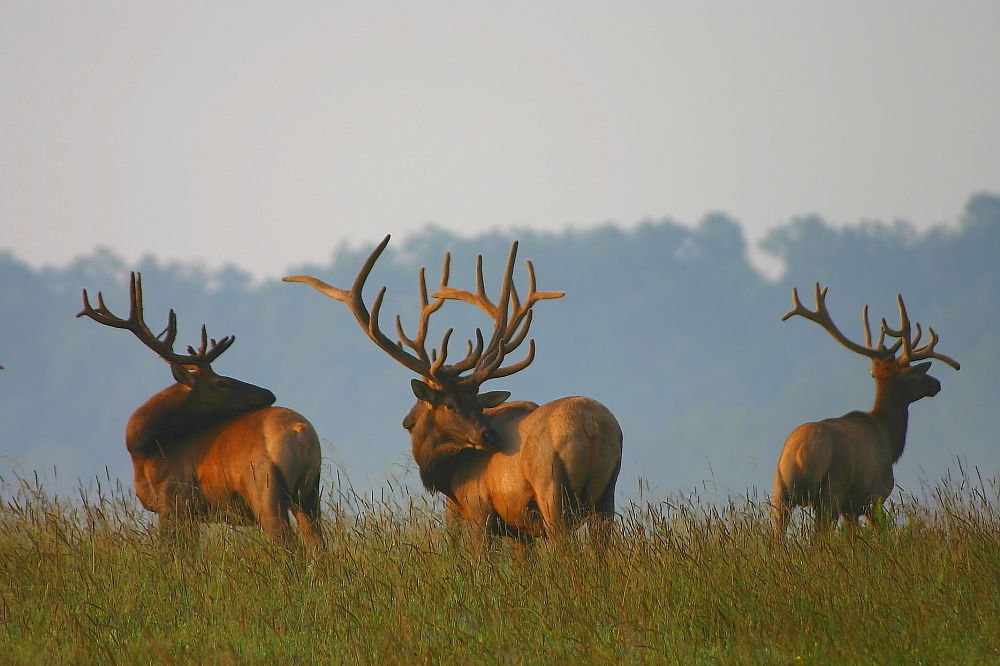 Since 1997, Kentucky's elk herd has grown from 1,550 free-range, wild elk to the current strong population
A Symbol of Strength
The Kentucky Stag is most of all a symbol of strength. It's the raw power of nature. The Kentucky Stag has come roaring back to stand strong. When you see these majestic beasts standing tall in a field, you immediately recognize the power they hold. Man alone could never best these powerful creatures without use of cunning.
This is why AppalachiCanna chose the Kentucky Stag to represent our most powerful CBD oil, Kentucky Stag. Appalachia is experiencing a renaissance. Hemp is beginning to provide a new resource for the region, providing both economic opportunity and a CBD product that offers hope to a traditionally depressed region of America. Just as people of Appalachia once dreamed of prized elk returning to our mountains, the rise of the elk today gives hope to tomorrow.
AppalachiCanna is a concatenation of the words Appalachia Cannabis Company. When looking for our brand representation, we wanted a symbol of Eastern Kentucky. Something to represent not only our hopes, but our spirit and ingenuity, as well as our natural wonders. Nothing fit the bill so succinctly as the Kentucky Stag. Just as the elk has revitalized our mountain home, It's AppalachiCanna's hope to do the same. We're proud of our home and our heritage and know the power that lies within our mountains.
– 🌿 –
Discover the power of Kentucky Stag. Use code KYSTAG15 at checkout and take 15% off your next order!